'The School Notices U13 Girls Cricket Championship' was hosted by Marlborough College last Friday, 20th May.
Our team had a wonderful time and played exceptionally well, with Immy, Freya and Boo taking wickets.
The School Notices U13A Girls' Cricket Championship –

Match Report
An early start saw FSM's girls arrive in persistent drizzle, but game play commenced anyway. There were four pools of four teams, with just the winners of each progressing to the semi-finals. We played Daneshill, Sandroyd and Embley in turn. Each match consisted of 50 balls, delivered in 10 5-ball overs, with no girl allowed to bowl more than three overs. Wides incurred a penalty of 4 runs, no-balls 2, with a free ball to follow. FSM's girls played steadily, with Immy, Freya and Boo taking wickets. Daneshill proved tough opposition (and eventually made it to the Championship final), scoring 96 – 1 to our 69 – 4. Sandroyd and Embley had some strong and fast bowlers, although getting a bat to snick the ball often led to a boundary shot. It was good to see the sun push through in time for our last game. Despite losing to both schools, FSM's girls gained valuable experience in the regular hard-ball game instead of pairs.
While the semi-finals took place, the other pool teams were treated to a series of cricket masterclasses run by leading England cricketer Tammy Beaumont, MBE and Mark Alleyne, former England Coach and Assistant Director of Sport at Marlborough College. Tammy was encouraging the girls to hit sixes in a batting masterclass. Mark was leading a bowling session. The girls were suitably attentive and worked hard on these specific skills and collected autographs on the t-shirts they found in their goodie bags afterwards!
After a quick refreshment break, we settled down to watch the start of the final between Daneshill and Crosfields. This was exciting cricket, with both teams putting on a fine display. Crosfields ran out the eventual winners. A positive day's cricket all round, with much learned!
The School Notices U13A Girls' Cricket Championship – Photographs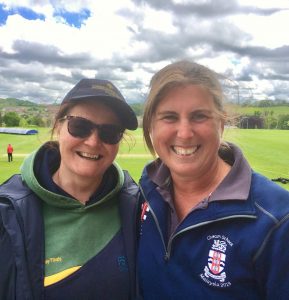 There was also a surprise meeting for Miss North at the cricket championship. When past meets present: one of Miss North's former pupils (when teaching in Kenya) is now her opposite number at a UK prep school!
More FSM Sport
For more of our sports news, click here.
See more of our latest news here.