Our Year 8 art group had an amazing zoom talk with Sarah Graham on Wednesday this week.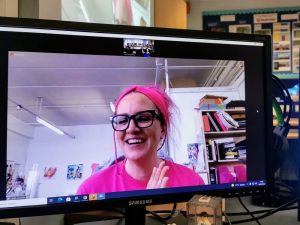 She spoke about her life as a photorealist painter and gave us all a tour of her studio, and she explained how living with bipolar had affected her. She is now in remission.
She said that the pupils were one of the most engaged she had worked with and was impressed with their questions.
The pupils also had a chance to show Sarah their own pieces of art that have been inspired by her own work.
See the full length take here.
See some of the photographs of the talk here.
In 2012, Sarah was commissioned by the British band Kaiser Chiefs to paint the album cover of their singles collection 'Souvenir', which was released worldwide. Her work is also owned by Standard Chartered Bank, which commissioned several pieces by Sarah, including a self-portrait, for their vast global collection of contemporary portraits.
Sarah's work is studied in schools throughout the UK and abroad, and in 2015, she was even featured on the GCSE art exam paper.
In February 2022, Sarah appears as a guest judge on the CBBC show 'Britain's Best Young Artist'. She was thrilled to be a part of such an inspiring show for young artists.
Year 8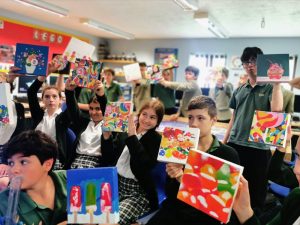 Inspired by her work, Year 8 pupils are preparing realistic paintings based on sweets, cupcakes and Lego on canvas!
See more of our latest news here.