We're so lucky here at Forres Sandle Manor to be situated on the edge of the New Forest, with our Moor, a beautiful lawned area full of wild and woodland flowers leading up to our woods.
In the summer months, butterflies and bees abound, as do many other types of wildlife. Our children often explore our forest school areas to look for spiders, ladybirds, butterflies and flowers.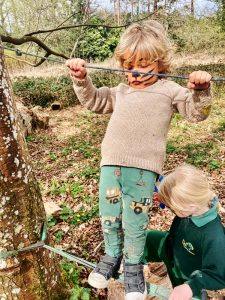 Nursery Face Painting Fun and Walking in the Jungle
This week our nursery children have been having fun learning about different animals, and today they enjoyed having their faces painted before 'Walking in the Jungle' up to our forest area.
The children have also been learning about repeating patterns. Some of the children also enjoyed collecting natural resources from our woodland area and then creating some simple repeating patterns of their own.
Everyone had a wonderful time. Here are some of the photographs.
Find out more about our Nursery
here.