Today, Matt our fantastic Chef, held one of his legendary taster sessions at breaktime for the children. The idea of the taster sessions is to give pupils a chance to try foods that they may not have had a chance to sample yet.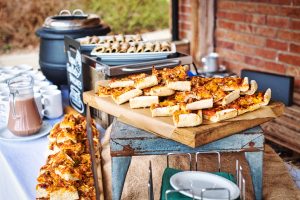 Vegan Tasting Table
Today was a Vegan taster session where everything on offer was plant-based! There was vegan cheese, BBQ jackfruit and pepper pizza, followed by vegan chocolate pancakes and vegan hot chocolate.
It is safe to say that the selection went down very well with a wonderful atmosphere with one pupil quoted as saying the foods were 'better than amazing!'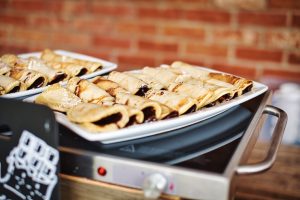 Matt's Simple Vegan Pancake Recipe:
2 X cups of flour
1 X teaspoon of baking powder
1/2 teaspoon salt
2 X cups of soya milk
Mix all together and fry for 20 seconds each side.
Chocolate Souce:
300g of dark chocolate
200ml of soya milk
3X tablespoons of golden syrup
Melt together.
See the photographs here.
Thank you, Matt and the team, for another incredibly popular tested session. All your hard work really is appreciated by everyone.
See more of our latest news here.