Today pupils and staff celebrated Chinese New Year with some delicious Chinese food.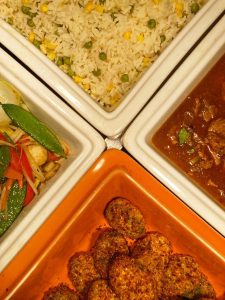 Chinese New Year – 1st February – The Food
Our fabulous chef Matt and his team produced this fine selection of celebratory food, including honeyed chicken wings, stir-fried vegetables, and prawn crackers.
See some of this fantastic food below.
Reception Chinese Dragon
Reception had great fun doing a dragon dance with their very own Gong Master to add to the experience! Dragon dances are believed to bring good luck.
Nursery
Today our Nursery children have begun their Chinese New Year celebrations by reading 'The Tiger Who Came to Tea'—and creating paper plate tigers and handprint tigers.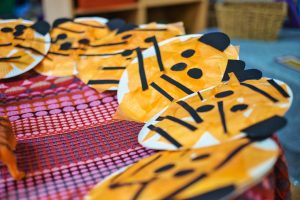 Nursery Manager Bev Kendall said:
We are looking forward to our Tea Party later in the week when we hope our own Nursery Tiger will come and join us!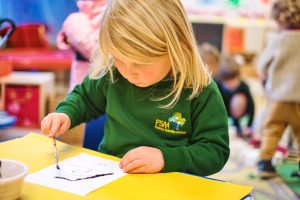 Chinese New Year Writing
The Nursery children have also been busy engaging in some very tricky Chinese mark-making, where they have been tracing the first letter of their names in Mandarin.
It was incredible to see how they wanted to 'have a go' at such a tricky activity, and it was lovely to see their determination and perseverance when challenges occurred.
See the video here.
See the photographs below.
Nursery also reenacted the Chinese New Year story, creating their festival masks with different instruments and engaging in running races.
See all of the photographs here.
Here is a video of one of the races.
See more of our latest news here.