Yesterday we held our annual Carol Service at St Mary's Church, Fordingbridge.
Our heartfelt thanks to The Rector Gary Philbrick who led our service, and gave us a message about joy throughout the world.
We had readings from our Head Girl and Boy and excellent singing from our Choir, as well as a beautiful solo performance from our Head Girl Freya.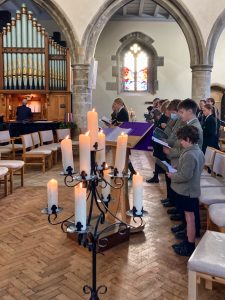 Service Lessons
The lessons included:
Lesson 1: The Christmas Star, by Julie Hebert
Lesson 2: The Angel Gabriel salutes the Virgin Mary
Lesson 3: St. Luke Tells of the Birth of Jesus
Lesson 4: The Shepherds Go to the Manger
Lesson 5: The Magi are led by the star to Jesus
Lesson 6: Recipe for Christmas, by Joanna Fuchs
Lesson 7: St John unfolds the mysteries of the incarnation
Here is a short video of some of the service:
See the photographs below.
See more of our latest news here.